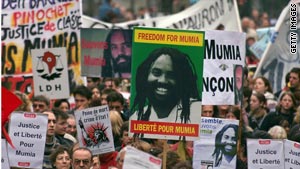 The case of convicted killer Mumia Abu-Jamal has drawn international attention, including this demonstration in France.
Philadelphia (CNN) — A former Black Panther convicted nearly 30 years ago of gunning down a Philadelphia police officer was granted a new sentencing hearing Tuesday by a federal appeals court, sparking a threat by the prosecutor to appeal the ruling to the Supreme Court.
In its 32-page decision, the 3rd Circuit Court of Appeals accepted defense arguments that the jury instructions at Mumia Abu-Jamal's original 1982 murder trial were unclear. The court's decision does not grant Abu-Jamal a new trial and his conviction of murder stands.
Philadelphia District Attorney Seth Williams said he believes the jury instructions were fair and accurate, and he plans to file a request for a judicial review by the Supreme Court.
"We will seek to overturn the 3rd Circuit Court's decision and reinstate the death penalty," Williams said in a written statement following the ruling.
Abu-Jamal was convicted and sentenced to death for the 1981 killing of Officer Daniel Faulkner. Witnesses testified that Abu-Jamal shot Faulkner in the back and head after the officer pulled his brother over during a late-night traffic stop.
Abu-Jamal, once known as Wesley Cook, was wounded in the encounter and later confessed to the killing, according to other testimony.
He's been on death row at a state prison in southwest Pennsylvania, where he's been an outspoken activist from behind bars — claiming there were procedural errors during his capital sentencing, and that too few blacks were on the jury.
His attorneys, who have repeatedly argued that confusing jury instructions and the verdict form given to the jury favored a death sentence instead of life in prison, applauded the appeals court ruling.
"This decision marks an important step forward in the struggle to correct the mistakes of an unfortunate chapter in Pennsylvania history," said John Payton, director of the NAACP Legal Defense & Educational Fund.
The state of Pennsylvania has 180 days to conduct a new sentencing hearing or sentence Abu-Jamal to life imprisonment.
Williams said his first call after learning of the court ruling was to Faulkner's widow.
"She was devastated by this news but remains steadfast in her belief that Abu-Jamal should pay the penalty the jury found to be just for this horrible murder 29 years ago," he said.
The case has attracted international attention, amid charges of prosecutorial misconduct.
The onetime radio reporter and cab driver has been a divisive figure, with many prominent supporters arguing that racism pervaded his trial.
Others countered Abu-Jamal is using his skin color to escape responsibility for his actions. They say he has provoked community unrest for years with his writings and advocacy.